The Most Rewarding Recruiting Experience.
Sit down. Sip your coffee. Click play.
Your fastest ROI one-way video interview software.
"Best recruitment software we've ever used. Finding the right people for the right roles has now become so much easier with a lot less effort."

Desiré Pauw

Divisional Executive, Momentum
"We went from doing 5-7 interviews per candidate to doing 1-2 interviews per candidate - an overall win from a productivity and candidate quality point of view."

Rikus Blomerus

GM - HR & Marketing, WeBuyCars
"I interviewed 100 people in 5 days, whilst on holiday, without having to be present for the interviews. Wamly has totally changed the hiring game for us."

Kyle Farah

CEO, Future Famous Media
Helping the world hire better people faster.
Demo Wamly
Save time
Real-time interviews are wasting your time. Why? Because YOU need to be there.
On the go
No need to cram in interviews, quickly review multiple candidates after-hours.
Collaborate
Each team member invited can rate candidates and make comments.
In 3, 2, 1…
Real time questions give your candidate seconds to prepare, just like in real life.
Better hires
Interview more candidates in less time, leading to better hiring results.
Build an archive
Even if they don't make the cut this time, their interview is saved for future.
"Absolute game changer. Have hired 2 new employees in 2 months. We worked through 8 interviews in 30 minutes and could quickly and easily make a decision to move forward."

Jurgens Uys

Versus Socks
No more valuable office hours wasted.
No need to be in the same room with your team to see or discuss candidates, do it all online within Wamly and in your own time.
With Zoom or face-to-face interviews, everyone still needs to be available at the same time, which is inconvenient and a waste of time.
Our streamlined evaluation process makes it easy for you to shortlist the best talent for epic real-life interviews.
Demo Wamly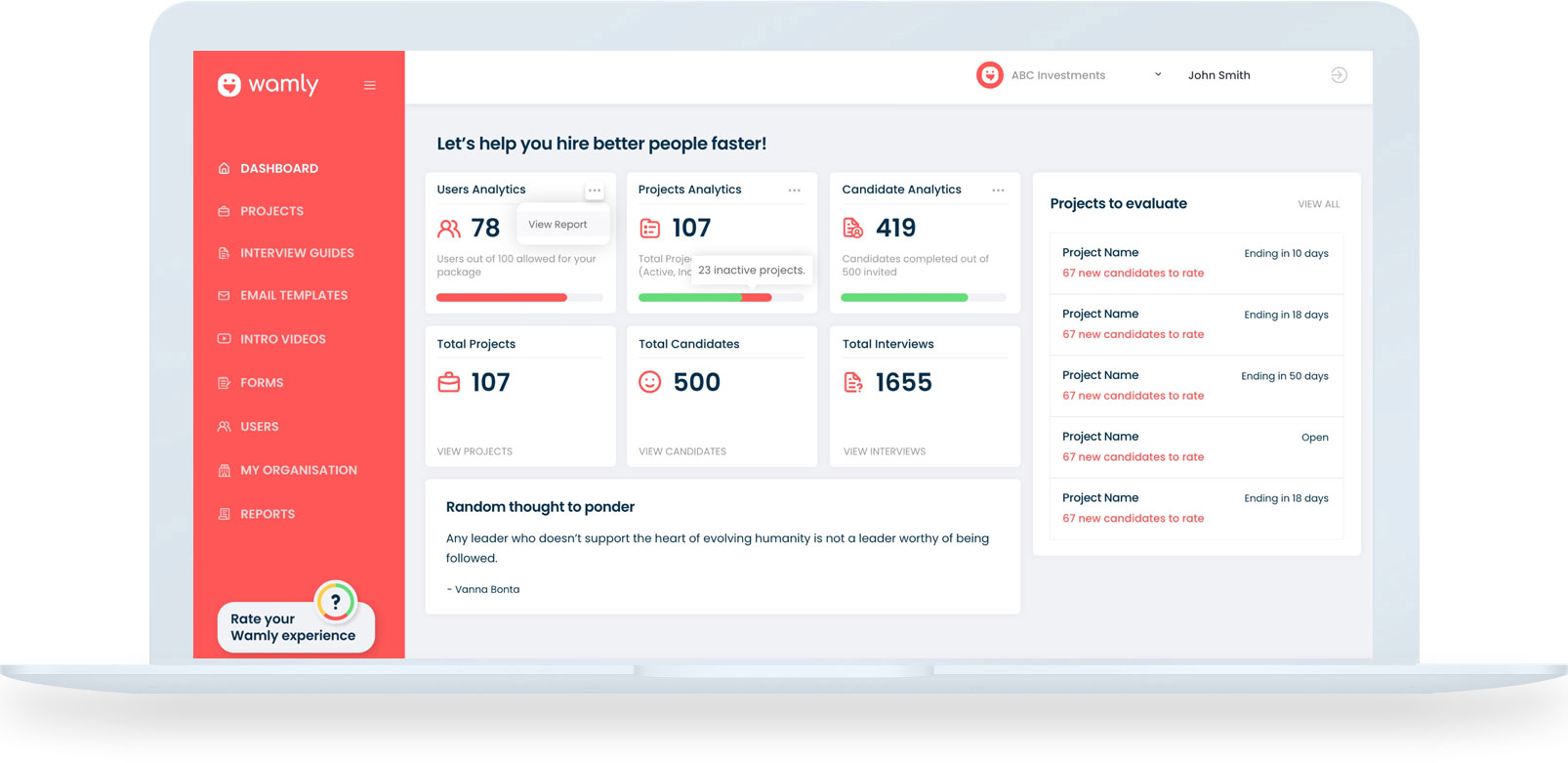 Find awesome people to join your team, effortlessly.
There's a better way to do hiring. One that allows you to collaborate effortlessly so that you can concentrate on the things that matter most.
Demo Wamly